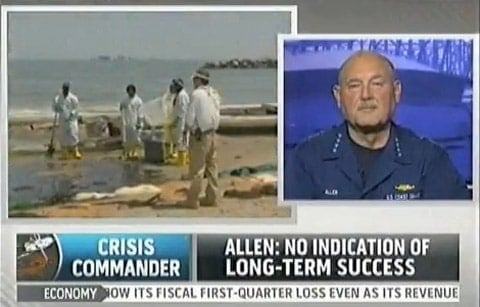 Uncertainty continues to surround the ambitious "Top Kill" procedure recently used to plug the Deepwater Horizon oil well leak. 
Obama is headed to the Gulf coast today for a second time.
Crisi Commander Thad Allen told GMA that it would be another 48 hours before a more decisive determination could be made.
BP CEO Tony Hayward called the spill an "environmental catastrophe" in an interview with CNN.
Hayward also spoke with the Today show:
"[Hayward] maintained that the procedure, which has never been attempted before so deep underwater, still had only a 60-70 percent chance of success, although some of the risks had been reduced.'It will probably be another 48 hours before we know if we've met the success,' Hayward added.If the procedure works, BP will inject cement into the well to seal it permanently. If it doesn't work, BP says it has a number of backup plans. Either way, crews will continue to drill two relief wells, considered the only surefire way to stop the leak.The company revealed Friday that the costs of its response to the spill so far were $930 million."
Watch Thad Allen talk to Good Morning America, AFTER THE JUMP…