Toronto Maple Leafs manager Brian Burke, whose gay son Brendan died in a car accident in February, is making good on his promise to be a gay rights advocate in memory of Brendan. Burke participated in the launch of a website today aimed at curbing anti-gay bullying, the Toronto Sun reports: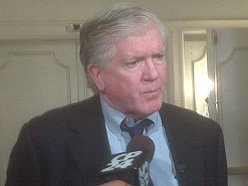 "Leafs general manager Brian Burke asked media to shut off their cameras before he broke down during his speech on gay rights and anti-bullying in front of hundreds of parents, educators and students.
Burke was asked Monday morning to help launch a new Website, MyGSA.ca, which is the first national resource dedicated to helping lesbian, gay, bisexual, transgendered and questioning (LGBTQ) youth at the Sutton Place Hotel. … 'We have to get to a point where you can go to school free of fear,' Burke said. 'Fear is a horrible emotion to feel and smaller kids get picked on and gay kids get picked on. It's got to stop.'
The website was created to protect the human rights of LGBTQ Canadians when bullying is still rampant in schools."
A class act.