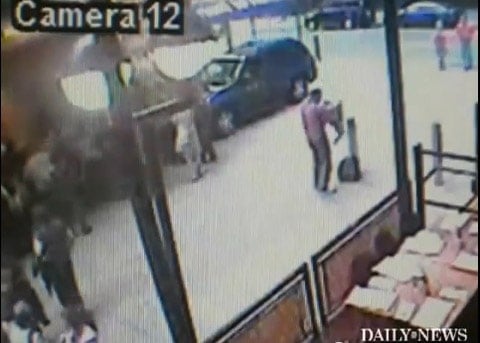 Police released surveillance video of a man, approximately in his 40's, condidered a "person of interest" in the attempted bombing in Times Square over the weekend. The man is seen changing his shirt and putting it into a bag as he walks away from the area where the Pathfinder was left. More details were released on the explosive itself:
"Raymond W. Kelly, the New York City police commissioner, said on Sunday that the materials found in the Nissan Pathfinder — gasoline, propane, firecrackers and simple alarm clocks — also included eight bags of a granular substance, later determined to be nonexplosive grade of fertilizer, inside a 55-inch-tall metal gun locker.The bomb, Mr. Kelly said, 'would have caused casualties, a significant fireball.'Had it exploded, said Paul J. Browne, the Police Department's chief spokesman, 'It would have been, in all likelihood, a good possibility of people being killed, windows shattered, but not resulting in a building collapse.'"
No motive has been determined.
Watch it, AFTER THE JUMP…