An 81-year-old Cape Coral, Florida woman was arrested last week after raising her cane to officers who had paid her a visit after receiving complaints she was stalking and harassing a neighbor and her gay son, WOAI reports: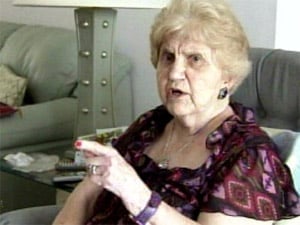 "Police say the nine calls from Viola Elizabeth Heineman got increasingly vulgar and abusive as they went along. Officers say the calls, some of which were recorded on an answering machine, degraded the neighbor's son because he is gay and made comments about the sexual promiscuity of his elderly mother. At one point, Heineman reportedly said the woman was 'lifting her legs for any man out there.'
Two officers and a victim's advocate went to speak to Heineman Wednesday afternoon at her home in an effort to stop the harassment…Police say that as the victim's advocate was explaining different services available to Heineman, the woman walked out of the kitchen and sat down in the living room. The victim's advocate tried to continue the conversation there, but police say Heineman would have none of it.
Officers say Heineman pointed at the woman and said she didn't make the calls heard on the answering machine, and then raised her metal cane up over her head and said to the victim's advocate, 'I'm going to hit you with this.' The officers stepped in, took away the cane and arrested Heineman."
She was charged with stalking and aggravated assault.