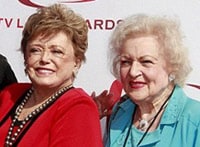 The last surviving Golden Girl, Betty White, mourns the death of her friend:
"Rue was a close and dear friend. I treasured our relationship. It hurts more than I even thought it would, if that's even possible."
McClanahan died early this morning after suffering a massive stroke. She was 76.