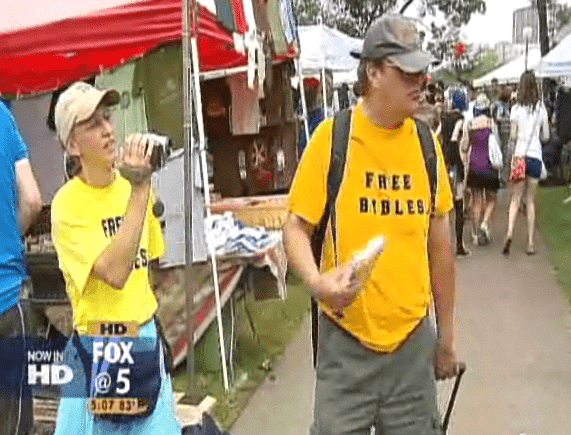 Brian Johnson may have won the right to distribute bibles at Twin Cities Pride yesterday, but, according to the Minneapolis Star-Tribune, no one paid him much attention at the event.
Brian Johnson, 53, of Hayward, Wis., his wife, Doris, and son, Jason, arrived at the Minneapolis park wearing yellow T-shirts printed with the words "Free Bibles." They pulled rolling suitcases full of Bibles and attracted little attention, stopping only to hand out Bibles or to engage in conversation when asked. They encountered a few challengers and bemused glances from festival attendees familiar with the court case, but attracted little attention until a gaggle of television cameras began to follow them.
I think it's safe to say that, at the end of the day, all of their suitcases were still full of Bibles.
Watch a news segment from Fox 9 featuring an interview with Johnson, AFTER THE JUMP.