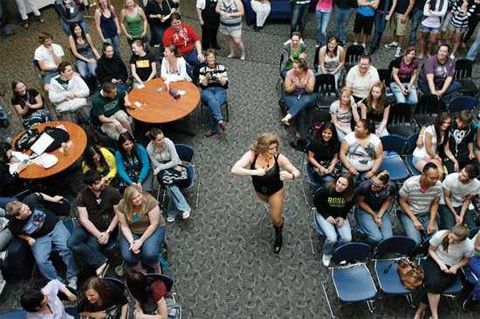 The above photo appeared on the front page of the Tri-City Herald, a newspaper that covers southeastern Washington state.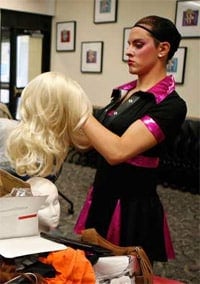 The photo caption explained: "Maci Dixx, a professional drag queen who performs at Out & About in Pasco, stuffs money into her outfit Tuesday in front of about 150 who attended Columbia Basin College's Queers & Allies drag show at the HUB. The two-hour show featured professional, student and faculty drag queens. Sponsored by the CBC nursing program, Queers & Allies is a student group open to non-students and serves as a support system for gays and lesbians too old for Vista Youth Center's services in Kennewick."
Bigots freaked out, sent letters, including this one: "Am I the only reader of this newspaper who would like to know what the Herald's news criteria was for publishing the four-column by seven-inch picture of a drag queen show on the front page May 26? Many would say the photo lacked good taste, but more importantly, failed by most journalistic standards to be 'newsworthy' or 'all the news which is fit to print.'
Does the editor who made the call have a tabloid mentality or does this person believe there was some social redeeming value to the photo and caption? Was there any 'reader take away' from its publication? Admittedly, it may be difficult for your editor to choose a 'newsy' story the morning after the cable news networks have already run all the important stories, but come on."
The editors defended the photo: "We don't view our role as being the community's censor. We simply report on what goes on, good or bad. We regularly cover news events that make our editors squirm, such as gruesome crimes, horrendous traffic accidents and heart-wrenching court proceedings, to name just as a few. We also report statements few would agree with or, in some cases, might even find hateful.
But reporting on and photographing such events is part of a newspaper's job, as well as chronicling our community's successes, its people and its problems. It's not a matter of whether we personally endorse an activity or not."
Now the paper is running a poll on whether it should run drag queen photos. Go ahead and place your vote, and check out the full gallery of the drag show while you're at it.