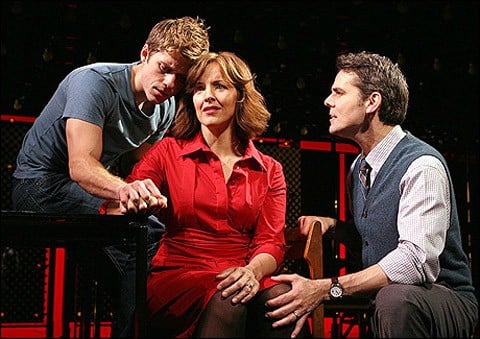 UPDATED
Tony Award-winning Broadway actress Alice Ripley has enraged fans after reportedly posting a status update to Facebook late last week in which she off-handedly referred to a critic of her performance in Next to Normal with an anti-gay slur:
"QUOTE FROM A NUMB BUTT ON BROADWAY WORLD: "I'VE SEEN N2N 8 TIMES WITH ALICE RIPLEY, WHICH IS 7 TIMES TOO MANY." HA HA HA HA!!! THIS FRUSTRATED ACTOR (I WON'T SAY FAG) IS MY NEW BEST FRIEND! THANKS FOR LOOKING DOWN ON LOSERS LIKE US THAT WORK FOR A LIVING. YOU ARE THE OPPOSITE OF A WONDERFUL
AUDIENCE."
While some fans are defending Ripley, many readers of the Broadway World site are not amused, and some are planning a stage door protest at 10 pm on Thursday. 
Writes one commenter: "Bring your 'Alice Hates Fags' signs a la Fred Phelps to Shubert Alley Thursday night at 10. Homophobia will not be tolerated in the theater community. Spread the word. Queers unite against Crazy."
UPDATE — Ripley posted an apology on Facebook early this afternoon: "Hey guys-
I just want to say how sorry I am for my recent post. It was careless and thoughtless and I assure you it is not a reflection of the way I really feel. Anyone who knows me knows that I've always supported the gay community and will continue to do so. I'm embarrassed and I apologize."