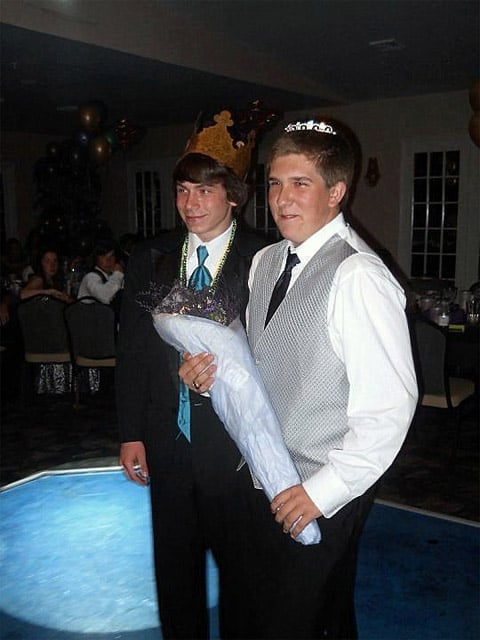 Gay best friends and seniors Charlie Ferrusi and Timmy Howard were crowned King and Queen of prom, respectively, at Hudson High School in Hudson, NY on Saturday, the Register Star reports:
"It's a really big step for Hudson but also for the gay community in general," Howard said Wednesday. "To have this happen in our city is pretty exciting."

Ferrusi said he and Howard started thinking about running about a month ago. While there were some students who were in opposition to their idea many more approved and the boys decided to go for it.

By prom night the overwhelming majority of students cast their votes in the open ballot race. They won by such a wide margin the school didn't crown any runners up.

In 2008 Augie Abatecola ran and won the race for Hudson prom queen but he was denied the crown by school officials. This time around Ferrusi and Howard decided to run their plan by advisors and Principal Steven Spicer beforehand.

The school officials said they wouldn't interfere with the student body's vote and gave the boys their blessing.

"We're proud of all our students," said Spicer Wednesday. "They know they have the right to pick whoever they want. It was exciting for them and it was exciting for Charlie and Tim."

One of the hardest parts of the experience, Ferrusi and Howard said, was deciding who would run for king and who would be queen. Both added they had the full support of their families.

While they were pretty sure they would win due to the buzz around school the boys said they still weren't sure everyone would vote for them.

"First of all it's Hudson High School," said Ferrusi. "For me to win king was crazy. For Timmy to win queen was insane. We both researched it online and never found any story of two gay guys winning both king and queen."
On top of prom, Hudson will hold its first-ever Gay Pride parade on June 20, and Ferrusi has been helping plan it:
"Ferrusi and Howard's crowning was appropriately timed, as Hudson will hold its first ever gay pride parade on Sunday, June 20. They said they plan on riding down Warren Street in the back of a truck with their crowns and homemade sashes.
Ferrusi has been involved in the event planning committee for the Hudson Pride celebration and has organized a large group of gay, lesbian and straight teens to walk together in the parade under the banner of 'Future Pride.'
The event's head organizer, well-known drag queen Trixi Star, said having Ferrusi participate has been special and what they accomplished at the prom is bigger than the boys may even realize."
Congrats to the new royalty of Hudson, New York! 
(source)