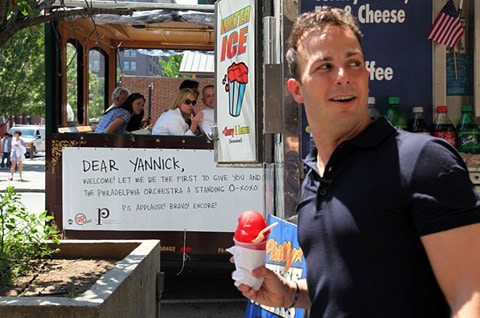 Yannick Nézet-Séguin, a 35-year-old gay Montrealer, has been named the new music director and conductor of the Philadelphia Orchestra. The city feted him on a recent trip there:
"The Montrealer knows most of the best, having conducted the Metropolitan Opera Orchestra and the Vienna Philharmonic, in addition to his regular commitments to the Rotterdam Philharmonic Orchestra, Montreal's Orchestre Métropolitain, and the London Philharmonic Orchestra.
All along the way, Nézet-Séguin gave good-humored syllable-by-syllable lessons on how to pronounce his name (Yah-NEEK Neh-ZAY Say-GUN), a conflation of his mother's maiden name, Claudine Nézet, and the family name of his father, Serge Séguin. The day's best mispronunciation was at City Hall with Nutter: It came out something like 'Unique Cezanne.'
At every stop, Nézet-Séguin was introduced with his parents, who help manage his career and celebrated their 43d wedding anniversary yesterday. Usually in the same breath, the conductor's partner, Pierre Tourville, a violist in the Montreal orchestra, was also introduced. The two were visiting Philadelphia between Orchestre Metropolitain performances of the Mahler Symphony No. 8 in Canada."
A slideshow of Nézet-Séguin's visit to Philly, HERE.