A Vancouver couple who returned home on Saturday night were attacked by two men they found urinating against their townhouse. The Province reports: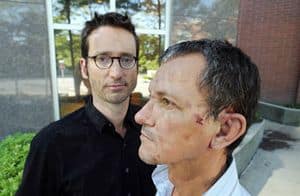 "Two thugs viciously assaulted David Holtzman and his partner, Peter Regier, as they tried to enter their townhouse on Keefer Street at around 10:45 p.m.
'We were out at a concert and came home and found two guys on our steps peeing against the wall,' Holtzman told The Province.
'I said, 'Do you really have to pee there?''
The man replied with extremely vulgar, anti-gay invective, he said.
Holtzman said he and Regier were attacked without provocation. He received about 50 punches to his head and body and was twice bitten by his attacker.
He still had blurry vision in one eye Sunday, but an eye doctor has told him he likely will recover.
Both Holtzman and Regier suffered concussions, with Regier beaten so viciously he was taken to hospital, where surgical staples were put in his head to close a wound."
Although there was a UFC fight going on in the area, police say there appears to be no connection between it and the couple's attackers, thought they will continue to look into it.