Two of Clear Channel's "approved" images: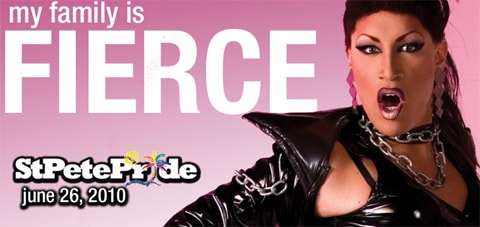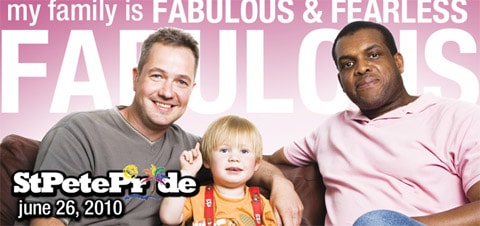 Peter Schorsch at Saint Petersblog writes: 
"In other words, Clear Channel approved the artwork depicting the, um, transvestite and the couple adopting a child, which, thanks to the backwards mentality of the rednecks in North Florida who voted for the constitutional amendment doing so, is prohibited in Florida. But the pictures of gay men and lesbian women — gasp — embracing each other is just too frightening to show in public. The rejection of the artwork for the billboards has the organizers of St. Pete Pride contemplating not only pulling their business related to their event, but also organizing a larger boycott of Clear Channel."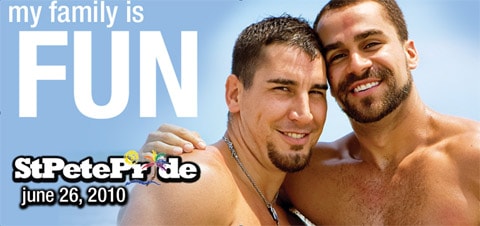 The images that you see here of two gay couples posing affectionately for the St. Pete Pride ad campaign were rejected by Clear Channel Outdoor Tampa Bay after being submitted to appear on billboards for upcoming gay pride events. The rejection of the billboards have prompted St. Pete Pride to cancel its entire pending contract with Clear Channel.
Two that had been approved for the billboards appear, AFTER THE JUMP…
Wrote Clear Channel to St. Pete Pride organizers:
"After consulting with our Division President and Public Affairs Director the two images that I attached are the only ones that we have the permission to run for your campaign. I'm going to schedule these two to begin running on Monday. If you'd like to create a few more designs that we may be able to use please send them my way. After I receive approval for any new designs you may have I'll put them into the rotation with these two. Please feel free to contact me with any questions. Thanks!"
The rejection of the innocuous "couple" images has understandably miffed organizers. They wrote to Clear Channel:
"The images that were not selected do not contain anything that is sexual, immoral, illegal or otherwise offensive in nature. I'm almost certain that you have had billboards in the market which display men and women in both friendly and romantic ways. I can't seem to understand where these images would be any different, except for the fact that they portray two men and two women, respectively."
See the two images that were approved, AFTER THE JUMP…