The gender-identity non-discrimination bill known as GENDA suffered a stinging defeat today by a 12-11 vote in a NY Senate committee, Daily Politics reports: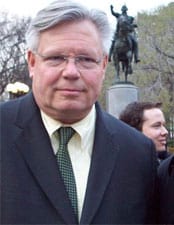 "The legislation, is described as 'AN ACT to amend the executive law, the civil rights law and the education law, in relation to prohibiting discrimination based on gender identity or expression; and to amend the penal law and the criminal procedure law, in relation to including offenses regarding gender identity or expression within the list of offenses subject to treatment as hate crimes.'
All 11 Republicans on the Judiciary Committee voted down the bill, plus Democratic state Sen. Ruben Diaz Sr. of the Bronx.  [Senator Tom] Duane (pictured)attributed the defeat partly to a difference of opinions on legislative strategy.
'it is now yet again confirmed that the Senate is a cesspool of homophobia and transphobia,' said Duane, who is openly gay. 'The advocates wanted to go through a committee… I believe that we should have brought GENDA through Rules and brought it right to the floor so as to deny the right-wing fringe the ability to organize against GENDA with their lies and distortions.'" 
This means the bill will not advance to the floor.
Conservative arguments against the bill, predictably, focused on scare tactics surrounding bathroom facilities and locker rooms.