Cheetahs, jaguars, tigers, and other big cats are drawn to man-made fragrances, the WSJ reports: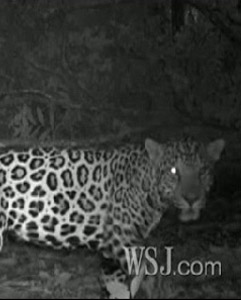 "In 2003, Pat Thomas, general curator for the Wildlife Conservation Society's Bronx Zoo in New York, decided to get scientific about it. Working with 24 fragrances and two cheetahs, he recorded how long it took the big cats to notice the scent and how much time they spent interacting with it.The results left barely a whiff of a doubt. Estée Lauder's Beautiful occupied the cheetahs on average for just two seconds. Revlon's Charlie managed 15.5 seconds. Nina Ricci's L'Air du Temps took it up to 10.4 minutes. But the musky Obsession for Men triumphed: 11.1 minutes. That's longer than the cats usually take to savor a meal."
Now, conservationists are taking "Obsession for Men" into the wild:
"After hearing through a colleague of Mr. Thomas's scent test, Mr. McNab's field biologists began spraying Obsession for Men near their cameras. Researchers squirted the cologne onto a rag tied to a stake in the ground. The elusive jaguars, which scientists say can detect smells from up to a kilometer away, crept forth. Three times as many of the cats walked by camera stands spiked with the cologne than those without it. Camera footage showed curious cats sauntering up to the scented rag, sniffing it, then lingering nearby. That diversion gave researchers the chance to get clear, full shots of the jaguars and their spot patterns.Beyond mere counting, the jaguar survey project has begun to capture rarely seen jaguar mating rituals, including a male's coy nipping and days-long pursuit of a potential partner."
Watch their video report, AFTER THE JUMP…