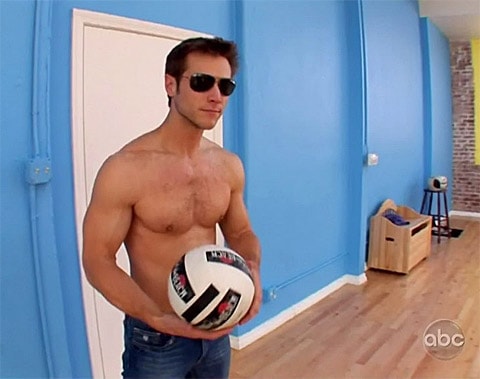 The next logical step in the evolution of the tabloid's examination of Bachelor Jake Pavelka would be for random people to come out of the woodwork saying that he's gay… 
"Paul Rosseau, who appeared on The Bachelorette, season four, didn't mince words when he questioned Jake's sexuality in an exclusive interview with RadarOnline.com.
'I definitely think he has gay tendencies, not only because of the way he dresses but also because he didn't want to have sex with a beautiful girl and never really tried with the other girls on the show.' Paul said, before adding a glib, 'Nothing personal, Jake!' A bachelorette from season 12 didn't want her name used, but told RadarOnline.com about Jake: 'I think he has gay potential and definitely gay tendencies.'  Jake has emphatically denied being gay, but Vienna's bedroom revelations have kept the controversy flaming. She said in an interview that Jake said premarital sex was a sin, but that was after he abstained from sex to go on a religious fast and after they started their relationship with passion. Vienna detailed Jake's series of excuses for avoiding intimacy for six months."
Plus, you know, he has that whole Tom Cruise fetish.