Jane Lynch married her partner Lara Embry on Memorial Day, People reports: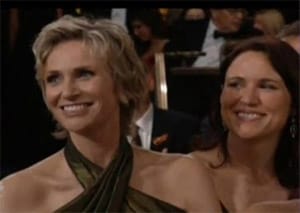 "Although the actress hasn't made an official announcement, the Blue Heron restaurant in Sunderland, Mass., reports that Lynch, 49, married psychologist Lara Embry in a small ceremony on Memorial Day.
'There were no celebrities or recognizable faces there,' restaurant co-owner Deborah Snow tells PEOPLE. 'Lara's daughter was there, along with close, close friends of the couple. It was small, warm, intimate and very sweet. You could feel the love and friendship amongst the group.'
After Monday's ceremony, in which a friend of Lynch's thanked the State of Massachusetts for being welcoming to gay and lesbian couples, the newlyweds and their 19 guests enjoyed a reception featuring a four-piece jazz combo.
Hors d'oeuvres included oysters, lobster triangles, Japanese crab salad, seared scallop with apple reduction and artichoke fritters with lemon aioli. For the main course: beet salad, striped bass with lemon buerre blanc, truffle mushroom salad, pan-seared breast of duck with duck confit, and herb salad."