Keith Phoenix, who with his accomplice Hakim Scott attacked a pair of Ecuadorean immigrant brothers and taunted them with anti-gay, anti- Hispanic slurs as they walked home from a night of drinking in December 2008, has been convicted of second-degree murder as a hate crime and attempted assault as a hate crime, for the murder and assault of Jose and Romel Sucuzhañay, respectively.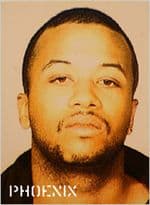 Phoenix's first trial resulted in a mistrial in May after one juror refused to continue.
"Phoenix, 30, and Hakim Scott, 27, assaulted the brothers after mistaking them for a gay couple as they were walking home early in the morning on December 7, 2008 in Brooklyn's Bushwick section. The two Ecuadorian immigrants were huddled close together to stay warm.
Romel said an anti-Latino slur was used. Two other witnesses heard an anti-gay slur.
Phoenix was convicted on the top counts he faced and could get as much as 40 years in prison for the killing when he is sentenced on August 5. His first trial ended in a mistrial after one juror held out for a manslaughter conviction while the other 11 wanted to convict on second-degree murder. The first jury did not believe the attack was a hate crime.
Scott was convicted on manslaughter and attempted assault charges on May 6, though not as hate crimes. Scott will be sentenced on July 14."
Phoenix faces life in prison.