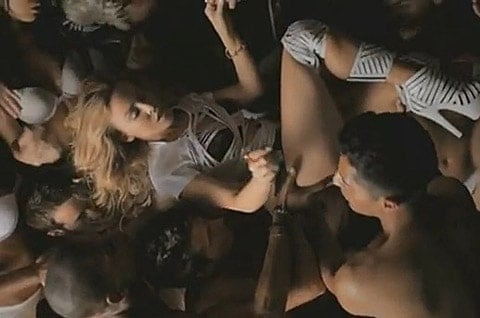 Michael Musto (who has very good ears) hears:
"I'm hearing that international dance pop diva Kylie Minogue will stylishly find her way to the long running gay bar Splash (50 W. 17th Street ) this Friday night, sometime around 1 a.m.
There, she will preview her new single/video, and afterwards you'll presumably go 'Can't get it out of my head.'"
It makes sense. Kylie is in town for the amfAR Inspiration Gala tomorrow night, at which Ricky Martin will make his first public appearance since coming out.
Promoter Josh Wood writes us:
"Kylie Minogue will be there to greet you.
Ricky Martin and Jean-Paul Gaultier will be honored for their dedication to the fight against AIDS.
Every major menswear designer from Tom Ford to Marc Jacobs will be presenting 'Black Leather/Black Tie' designs in a killer runway show featuring the top Wilhelmina male models in the world including Noah Mills, Alex Lundqvist, Enrique Palacios and Tyson Ballou.
Cyndi Lauper is performing. Estelle is DJing.
It couldn't get more major. There are only a few tickets left. Please email david.yu@amfar.org for tickets and tables."