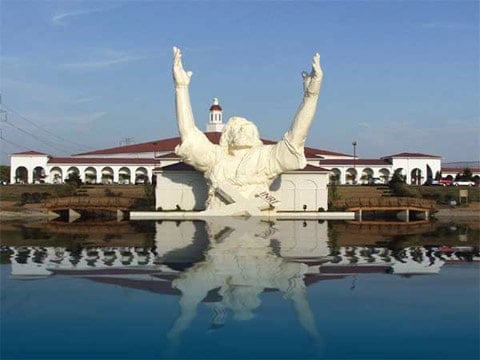 An "iconic" massive statue of Jesus in Monroe, Ohio was struck down by God's wrath lightning last night, the Dayton Daily News reports: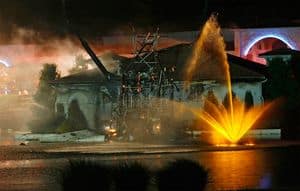 "The statue was constructed of wood and styrofoam over a steel framework that was anchored in concrete and covered with a fiberglass mat and resin exterior, according to the church. It was slated to undergo renovations this summer.Gathered along Union Road were Franklin twins and storm chasers Levi and Seth Walsh, who said they were out in the thunderstorm when they heard about the fire through a Facebook update.'It sent goosebumps through my whole body because I am a believer,' said Levi Walsh, 29. 'Of all the things that could have been struck, I just think that that would be protected. … It's something that's not supposed to happen, Jesus burning,' he said. 'I had to see it with my own eyes.''I can't believe Jesus was struck,' said his brother, who noted the giant Hustler Hollywood sign for the adult store across the street was untouched. 'It's the last thing I expected to happen.'"
Sounds like somebody up there isn't so happy about how the Ohio Christians are behaving.
Watch, AFTER THE JUMP…