A vote on the Employment Non-Discrimination Act (ENDA) will not take place until after legislative action on "Don't Ask, Don't Tell" repeal is complete, according to House Speaker Nancy Pelosi.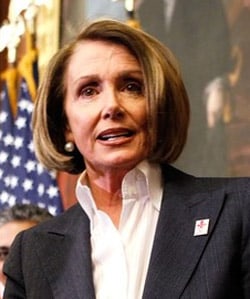 The Washington Blade reports:
During her weekly press conference, Pelosi said in response to a Blade inquiry on ENDA's prospects that lawmakers "still have to finish 'Don't Ask, Don't Tell.'"

Referencing the successful House vote May 27 to attach repeal to Defense Department budget legislation, she said, "And now, of course, we'll go — after the bill passes in the Senate — we'll go to conference. But our work is not finished in that regard, so one thing at a time."

A Democratic leadership aide, speaking on condition of anonymity, later affirmed that ENDA would not see a vote until work on "Don't Ask, Don't Tell" is complete.

"It's very important that we finish 'Don't Ask, Don't Tell' before we move on to ENDA," the source said. "We must ensure the community remains focused on getting ['Don't Ask, Don't Tell'] done and maintaining strong pressure to get the Defense bill done in light of filibuster threats in the Senate. Then we can move on to continuing to assess the votes on ENDA."
Read the full exchange with Pelosi at the Blade…
Looks like we won't see any action on ENDA until 2011 at the earliest. Until then, continue to hope that you won't be fired from your jobs because you're gay.