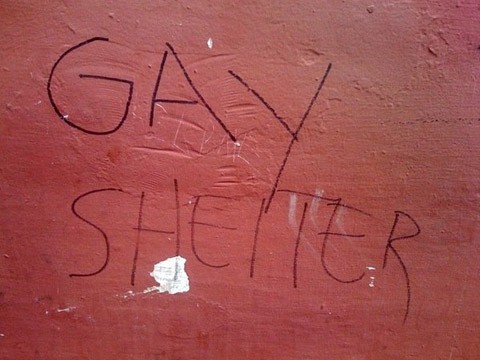 NYC's Ali Forney Center was hit with anti-gay graffiti last night, the organization reports in a press release:
"The Ali Forney Center's newly opened shelter for homeless LGBT youth in Astoria Queens was defaced last night with anti-gay graffiti. At 6am this morning, two of the residents of the shelter discovered the slurs which included; 'We don't want gay people here' written on the exterior of the shelter, and 'Gay Shelter' written on the site's door (see attached JPG). 'I am infuriated that someone would target our kids in this cowardly way' says Carl Siciliano, Executive Director of the Ali Forney Center, the nation's largest organization serving homeless LGBT youth. 'The young people who come to us for help and shelter have already experienced terrible hardship, and I will not stand for them to be further abused.' The Ali Forney Center (AFC) is working with the New York City Anti-Violence Project, with City Council Speaker Christine Quinn, and with local Councilmember Peter Vallone on devising strategies to protect its residents from further attacks. AFC has also reached out to the local police precinct and the NYPD Hate Crimes Task Force who are now conducting an investigation into the incident."
There is a rally taking place in Union Square on Monday. It had already been planned, but no doubt this crime will be condemend there as well.