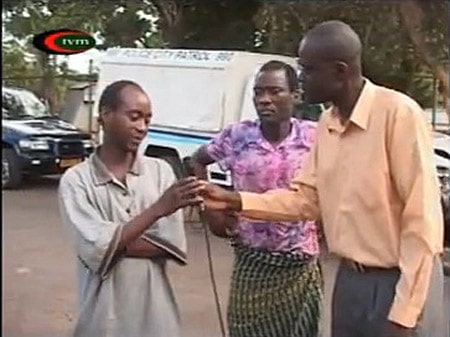 Steven Monjeza and Tiwonge Chimbalanga appeared at a press conference in the city of Lilongwe on Wednesday, their first public appearance since UN Secretary-General Ban Ki Moon's meeting with Malawi President Bingu wa Mutharika, which led to their pardon.
"A Malawian gay couple who received a presidential pardon on a 14-year sentence for sodomy on Thursday called President Bingu wa Mutharika a 'caring father' and a 'tolerant president.''The president has demonstrated that he is a caring father, a considerate and tolerant president. We wish him good health in his everyday endeavours as he continues leading the country to respecting human rights and to economic prosperity,' the couple said in a statement.Tiwonge Chimbalanga, 20, and Steven Monjeza, 26, gave a brief news conference in the administrative capital Lilongwe late Wednesday, their first public appearance together since Saturday's pardon from the sentence of 14 years' hard labour imposed after they held a symbolic wedding."
Also:
"The couple asked the media and the general public to respect their privacy.'So much has been said and written about us, both positive and negative. We think this is the time for us to be given an opportunity to enjoy our freedom,' they said.They called their ordeal 'the most stressful period in our lives.'Chimbalanga told AFP in a phone interview that he was in Lilongwe to 'have a breather', while his partner had returned to his village."
Mutharika told the public that his decision was final and not to be discussed: "The story ends there. I don't want to hear anyone commenting on them. Nobody is authorised to comment on the gays. You will spoil things."
Watch a TV interview with the couple (it needs translation, but it offers a look at the couple, post-prison), AFTER THE JUMP…