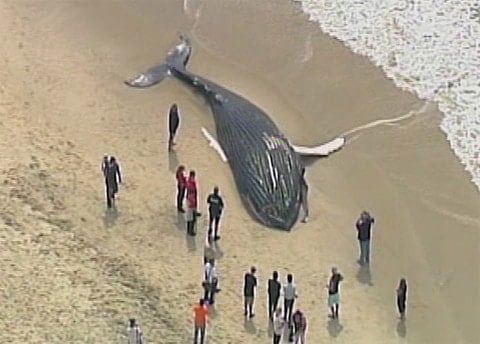 A 25-foot dead whale, believed to be a humpback, has washed up at Jones Beach, approximately 35 miles from New York City, Long Island Press reports:
"The Riverhead Foundation for Marine Research and Preservation, a nonprofit marine life rescue organization, will make the determination of what to do with the whale's remains, according to George Gorman, spokesman for the Long Island region of the New York State Office of Parks, Recreation and Historic Recreation.
The whale was discovered by parks staff east of field 6 at Jones Beach and west of Tobay Beach near a strip of beach known as High Hill.
The Riverhead Foundation will decide if they want to conduct a necropsy to determine the mammal's cause of death. Parks staff found no apparent signs of injury.
Once a necropsy is complete, parks staffers will be responsible for burying the whale in the sand."