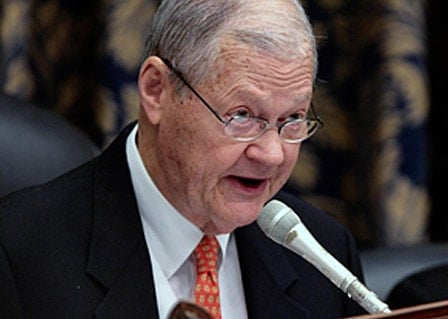 GetEQUAL yesterday announced a major protest of Rep. Ike Skelton to take place today, after the congressman's refusal to apologize for remarks in which he said repealing "Don't Ask, Don't Tell" would harm families because it would force parents to talk to their children about homosexuality.
GetEQUAL writes:
"(Today), in addition to 11:00 am (CST) protests, lead almost entirely by Missouri voters, that will take place outside of Rep. Skelton's Jefferson City Congressional District Office, the group will also deliver over 3,000+ petitions also calling on the Congressman to issue an immediate, public apology for his homophobic remarks. Also, the group will be reading a letter to Rep. Skelton from a gay, Missouri soldier who is currently on active duty In Baghdad and facing discharge under the 'Don't Ask, Don't Tell' law. The letter calls for the Armed Services Chairman to stop his efforts trying to thwart any attempt at progress toward the repeal of 'Don't Ask, Don't Tell'. 
Said Ed Reggi, a local Missouri resident and co-founder of Show Me No Hate, a Missouri grassroots coalition made up of advocates who support full equality for the LGBT community. "Congressman Skelton has had ample opportunity to step forward and take responsibility for his comments by issuing a public apology. His refusal to apologize for his homophobic remarks and to take a pledge to stop his efforts to kill any attempt at repealing .don't ask, don't tell. can only be interpreted as a blatant disregard for the care and treatment of his gay and lesbian constituents. Therefore, tomorrow we are prepared to hold the Congressman accountable for his homophobia."