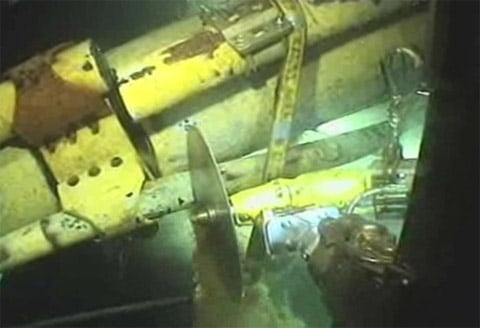 A saw being used to cut the pipe in the BP oil well relief efforts has become stuck.
The new effort, detailed over the weekend:
"In BP's new effort, robots would use a diamond saw to cut the leaking and crumbled riser pipe cleanly from atop the failed blowout preventer and then install a cap to allow much of the oil to be pumped up to a ship on the surface.Dudley told Candy Crowley on CNN's 'State of the Union' that the pipe was not restricting much flow, so severing it should not greatly increase the volume of oil spouting from the well.'There may be a small increase,' he said. 'But we should not expect to see a large increase, if any, by cutting this off and making a clean surface for us to be able to put this containment vessel over it.'Dudley said on ABC's 'This Week' that BP 'learned a lot' from the earlier containment failure, and this time it plans to pump warm seawater and methanol down the pipe to prevent the gases from freezing."
They are saying the current efforts are now stalled:
"Coast Guard Adm. Thad Allen is saying that a saw has become stuck as it was cutting through a pipe on a busted well, stalling the latest attempt to contain the Gulf oil gusher.Allen said Wednesday the goal is to free the saw and finish the cut later in the day. This is the second major cut in the effort to contain — not plug — the nation's worst spill.Allen says the first cut with giant shears was successful overnight.The best chance at plugging the leak involves a relief well that is at least two months from completion."
Meanwhile, oil has begun washing up in quantity in Alabama. Watch, AFTER THE JUMP…