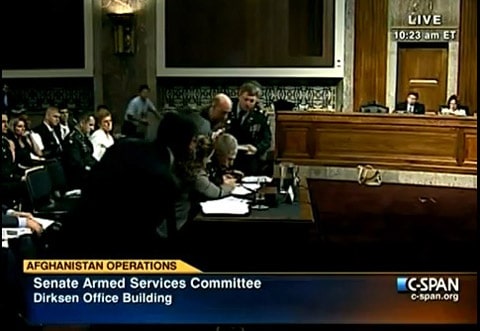 General Petraeus briefly lost consciousness at a hearing today at the Senate Armed Services Committee while Senator john McCain was speaking to him.
He was only down shortly and left the room of his own volition.
"Petraeus returned to the committee room at shortly before 11 a.m., smiling.'A little bit light headed, it wasn't Sen. McCain's questioning,' Petraeus said.Petraeus said he had become a dehydrated and had become light headed. He had been under intense questioning from both McCain and Sen. Carl M. Levin (D-Mich.) Tuesday morning on U.S. plans to begin drawing down forces from Afghanistan next year.A few minutes after Petraeus collapsed, Levin announced Petraeus was fine and was getting something to eat.Last year, Petraeus received treatment for early-stage prostate cancer. But the general is obsessed with physical fitness, and prides himself on his endurance.After returning to the committee hearing, Petraeus was greeted with a standing ovation.'You are one of America's greatest heroes, glad you are recovered,' McCain said."
Video, AFTER THE JUMP…