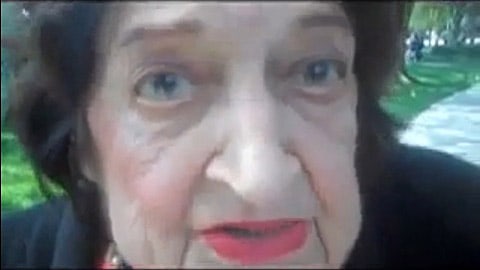 White House veteran reporter Helen Thomas will retire, effective immediately, following fallout from her recent remarks that the Jews "should get the hell out of Palestine." Mediaite has the announcement from Hearst.
White House Press Secretary Robert Gibbs condemned the remarks on Monday.
Said Gibbs: "I think those remarks were offensive and reprehensible. I think she should and has apologized. Obviously those remarks do not reflect the opinion, certainly, I assume, of most of the people in here, and certainly not of the administration."
Thomas apologized Friday on her website: "I deeply regret my comments I made last week regarding the Israelis and the Palestinians. They do not reflect my heart-felt belief that peace will come to the Middle East only when all parties recognize the need for mutual respect and tolerance. May that day come soon."
Nevertheless, Thomas was dropped by her speakers agency on Sunday.
Meanwhile, Rabbi Nesenoff, whose video interview captured the remarks, says more footage is coming.
"Nesenoff noted that he was just as surprised as anyone else at Thomas' comments and that he had intended the interview to be 'light': 'I was dumbfounded and hurt by it.'Nesenoff also revealed that 'there was more to the video' and that 'part two is coming out in the next day or so.' Nesenoff would not disclose what 'more' consisted of except that the visual 'explains it all.' I must admit I find the fact he is waiting a 'day or two' to get it up when there is clearly such a clamor for this story somewhat questionable. Additionally, one wonders whether Thomas will still have her job in a day or two, and if she doesn't whether any additional video will really matter in the larger picture."
The original interview, AFTER THE JUMP…