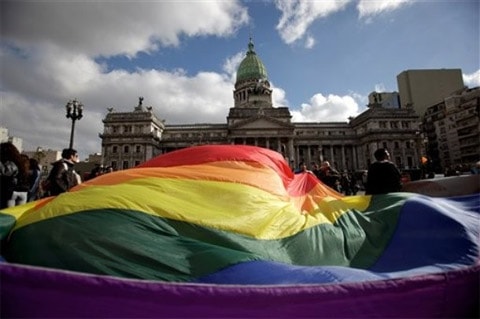 Argentina's Senate legalized same-sex marriage after a debate that lasted all day and well into the night, Reuters reports: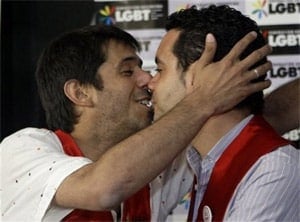 "Following more than 14 hours of charged debate, during which thousands of Argentines protested outside the Congress, the upper house voted 33-27 for the proposal, with three abstentions.
"I believe this has advanced equal rights," Senator Eugenio Artaza told reporters after the debate in which many lawmakers in the upper house invoked their Roman Catholic beliefs to explain their stance.
Argentine President Cristina Fernandez supports gay marriage on human rights grounds and is expected to sign the bill into law after her return from a state visit to China. It cleared Argentina's lower house in May.
Tens of thousands of opponents, from children to elderly nuns, braved near-freezing temperatures to protest outside the Congress since Tuesday, snarling traffic in Buenos Aires.
Debate on the bill began in early afternoon on Wednesday and spilled into the early hours of Thursday. Several hundred gay marriage supporters also stood vigil awaiting the vote."
The AP adds: "As debate dragged into the wee hours, supporters and opponents held rival vigils throughout the frigid night outside the Congress building in Buenos Aires.
'Marriage between a man and a woman has existed for centuries, and is essential for the perpetuation of the species,' insisted Sen. Juan Perez Alsina, usually a loyal supporter of the president who gave a passionate speech against gay marriage.
But Sen. Norma Morandini, another member of the president's party, compared the discrimination that gays face to the oppression imposed by Argentina's dictators decades ago.
'What defines us is our humanity, and what runs against humanity is intolerance,' she said."