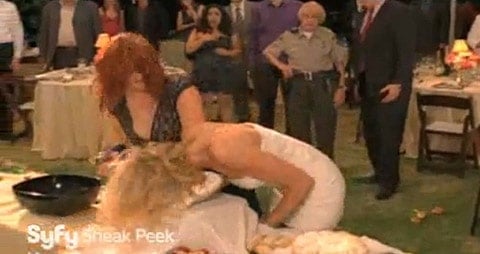 At this year's Comic Con, the SyFy channel showed off some footage from its upcoming epic Mega Python vs. Gatoroid. I'm not sure if 80's teen pop stars Tiffany and Debbie (er, Deborah) Gibson are the monsters referred to in the title but they're the ones doing battle in this clip.
It has all the requisite elements of a girl-on-girl B-movie catfight including toppled furniture, hair-pulling, smeared pastry, a slo-mo roll toppling a pyramid of wine glasses, and, of course, a water drenching.
But the best part may come at the very end where Gibson says, "I think we're alone now."
Unfortunately, Tiffany doesn't follow that with, "Only in my dreams."
Watch, AFTER THE JUMP…