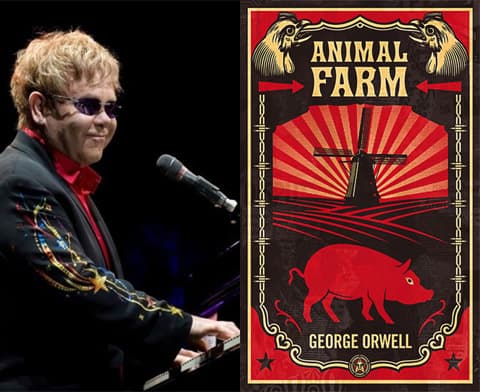 How to bring "an allegorical account of the Soviet Union's passage into Stalinism" to the Broadway and West End masses?
That's for Elton John to figure out:
"Sir Elton John is reportedly working on a stage adaptation of Animal Farm, teaming up with the writer of Billy Elliot, for a musical version of George Orwell's classic novel.
'I'm deep into it, writing songs for pigs and other four-legged friends,' Lee Hall told the Daily Mail. 'I know that Elton likes to have the lyrics done and have them in front of him so [I] work on a batch before I give him anything to look at.'
Hall and John have been working on the project for about two years, negotiating publishing rights for Orwell's 1945 book. 'We almost gave up,' he said. 'There was always that one last licence to go after.' The pair will begin working intensively this autumn, although it will still take 'about two years before it's all ready to go'."