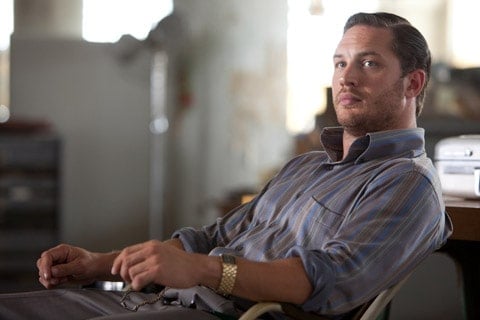 Inception star Tom Hardy tells the Daily Mail that he's had sexual relations with men:
"The 32-year-old Inception star, who is engaged to British actress Charlotte Riley, 28, and also has a two-year-old son with a former girlfriend.  But asked if he'd ever had any sexual relations with other men, the broody actor said: 'As a boy? Of course I have. I'm an actor for ****'s sake.
'I've played with everything and everyone. I love the form and the physicality, but now that I'm in my thirties, it doesn't do it for me. I'm done experimenting but there's plenty of stuff in a relationship with another man, especially gay men, that I need in my life. A lot of gay men get my thing for shoes. I have definite feminine qualities and a lot of gay men are incredibly masculine.'" 
The paper adds: "In an interview with Now magazine, the former party-boy who has battled drink, drugs and crime to turn his life around, added: 'A lot of people say I seem masculine, but I don't feel it. I feel intrinsically feminine. I'd love to be one of the boys but I always felt a bit on the outside. Maybe my masculine qualities come from overcompensating because I'm not one of the boys.'"