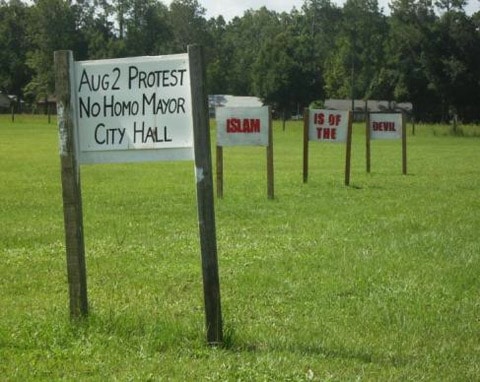 The Dove World Outreach Center, a church in Gainesville, Florida is planning a protest outside City Hall on August 2 from 12-2 against Mayor Craig Lowe.
Why? Because he's gay.
The group writes, on its website: 
"What is homosexuality? Detestable, indecent, wicked, offensive, perverted, shameful, unnatural, degrading, impure, futile, foolish, godless, dishonorable, a lie…We protest sexual perversion because the Bible protests it. Family, community and national leaders should also protest it, stay away from it, flee from it. What is acceptable to today's leadership becomes acceptable to tomorrow's society. We, as Christians, will fight for the truth of the Word of God. When Jesus came, he no longer supported the death penalty for these sins, but the wickedness of the acts remain wicked and a serious problem for society."
Lowe was elected mayor in April despite a vicious anti-gay campaign by the same church.