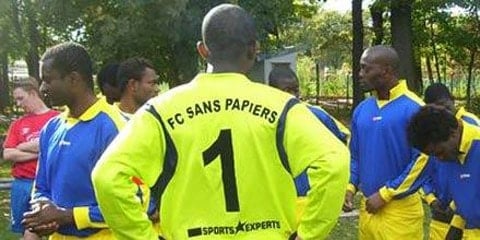 LGBT Asylum reports on the case of a Nigerian footballer who was deported to his home country by Austrian authorities and now lives in hiding in fear for his life:
"25 year-old Nigerian gay footballer Cletus U, deported by Austria 5 May on a a Frontex (European Union agency) plane to Nigeria with 44 others (and 113 guards) despite mass protests in Vienna, has told a leading Austrian newspaper that he is now in the Lagos slums, living in a shed with five other men.
He is terrified that his homosexuality will be discovered, particularly because that was the focus of his well-publicised Austrian case, which was covered internationally as well as on YouTube.
His parents, who live in the Muslim North, where Sharia law is in force including the death penalty for homosexuality, now know about his sexuality.
'The police can come at any time,' he said, 'beat me, imprison or kill, because I am the way I am.' In the slums, he could not trust anybody. On the phone to the newspaper he had to 'behave', he said, and 'fit in with those who are in the vicinity'. He only dares to venture out in the dark."
A refugee support organization is in the process of appealing Cletus U's deportation.