Joseph Gordon-Levitt talks to The Advocate's Brandon Voss about his many movie and TV roles, including his first notable role as a hustler in Mysterious Skin: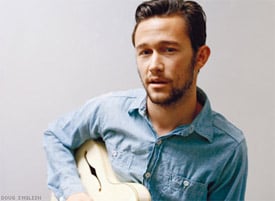 "Even though I played a guy that was turning tricks with dudes, I find it reassuring and encouraging about the days we live in that the people who respond to and recognize me from that movie are not disproportionately gay. That's good, because people in past generations who weren't gay might've been closed-minded to watching that movie and wanting to hear that story…But lots of people have gone through bad things when they were kids, so lots of people come up and tell me that movie meant a lot to them, and the reactions have been really meaningful, but, again, I wouldn't say that it leans gay. You know who responds to that movie? Actors. More actors bring up that movie than anything else. That movie was a huge, huge deal for me because it was really the first time people said, 'We used to think of him as the funny kid on the sitcom, but oh, wow, this guy can act.'"
Gordon-Levitt also talks about his kiss with Topher Grace on That 70's Show.
"Oh, I was totally proud of that, and I still am. It was a great bit, and it got a great reaction. More than anything else, though, I remember that it was written very well, because the emphasis wasn't on it being gay but on making sure the scene worked and was funny. It was great that it showed people it was just a normal thing."