Grand Jury Awards
US Narrative Feature:  "A Marine Story," Ned Farr
International Feature:  "The Secret Diaries of Miss Anne Lister," James Kent
Documentary Feature:  "Strange Powers:  Stephin Merritt and the Magnetic Fields," Kerthy Fix and Gail O'Hara
Narrative Short Film:  "Samaratin," Magnus Mork
Documentary Short Film:  "Close (Pod Bluzka)," Lucia Von Horn Pagano
Screenwriting:  Douglas Langway and Lawrence Ferber, "Bearcity"
Actor in a Feature Film:  Stephen Guarino, "Bearcity"
Actress in a Feature Film:  Dreya Weber, "A Marine Story"
Audience Awards
First Narrative Feature:  "The Four-Faced Liar,"  Jacob Chase
Narrative Feature:  "A Marine Story," Ned Farr
Documentary Feature:  "Forever's Gonna Start Tonight," Michelle Lawler
Narrative Short Film:  "You Move Me," Gina Hirsch
Documentary Short Film:  "I'm Just Anneke," Jonathan Skurnik
Special Programming Awards
Freedom Award:  "The Topp Twins:  Untouchable Girls,"  Leanne Pooley
Outstanding Emerging Talent: Drew Droege, "Go Go Reject," "Fagney and Gaycey"
Outstanding Artistic Achievement: "Undertow (Contracorriente)," Javier Fuentes-Leon
Meredith Baxter, who came out as a lesbian last December, participated in a panel discussion I attended yesterday at Outfest yesterday that focused on coming out in Hollywood. She was joined by several other openly gay creative types working in Hollywood as well as publicist Howard Bragman, who famously orchestrated coming outs by Chely Wright and Baxter. When asked about how should would tell the world that she is gay, Baxtyer joked to the audience, "I thought I might put an ad in the paper, kindof like a little birth announcement that would say, 'OK, I'm gay –Meredith.'"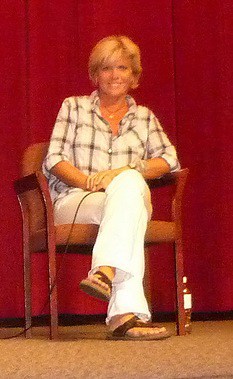 She also explained how Bragman handled her public coming out and how overwhelmed she was by all of the media attention:

"When it became apparent that this was not in my control any longer I was put in touch with the lovely Howard Bragman and he sort of put things into motion in ways that I thought was way over the top…an article in…People Magazine….followed by on air with Matt Lauer saying to national television 'hello im a lesbian!'"
Baxter added, "It was not in my plan but I will say that an enormous amount of relief followed that. I didn't expect it. I didn't know to look for that. I didn't know to want that. But now the feeling is 'Fuck it. Everyone knows. I don't have to worry about anything.'"
When asked if she was still pursuing acting roles, Baxter said that she was indeed. "Certainly I am. It's just been a long, slow period. It was tough before I came out. It just hasn't gotten better." She then turned to Bragman and said, "as someone had actually predicted it would be…"
Speaking of Outfest: Sasha, a German film about a teen boy who struggles to come out to his immigrant Montengrin family, is a gem of a film, and I'm not just saying that because my parents came from that country as well. It's touching, sweet, awkwardly funny and totally worth a peek.
(photos via Greg in Hollywood)
Finally, the big winners at Outfest were announced earlier this afternoon. The full list is AFTER THE JUMP.