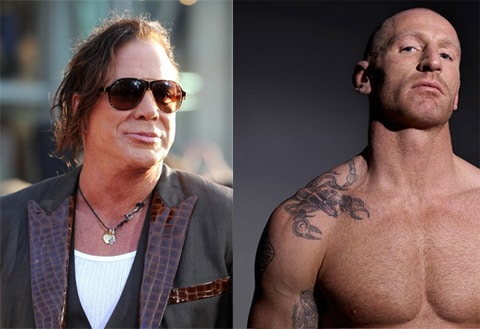 Mickey Rourke has met with openly gay rugby star Gareth Thomas in hopes of portraying him in a biopic, Wales on Sunday reports: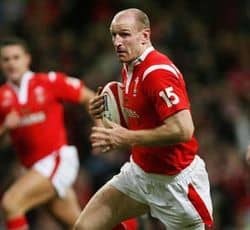 "The actor got in touch with the Crusaders star after reading about his life story and deciding he was 'the perfect model' for a film, the player's management have revealed.
The managers of both The Wrestler star and the Bridgend-born 35-year-old are now trying to thrash out a deal to get a movie of the life of Wales' most-capped international onto the big screen.
The pair met for the first time last week at the filming of Jonathan Ross' last BBC chat show, where Rourke was a guest.
A spokesman for Thomas' management company told Wales on Sunday: 'Mickey Rourke is a big rugby fan and was flying to New York from London recently when he read an article about Gareth and thought he would be the perfect model for a film.  Mickey contacted Gareth directly via a mutual friend in rugby league to express his interest and invited Gareth to watch the Jonathan Ross show and to meet him for dinner afterwards.'
Oscar-nominated actor Rourke, 57 – who is a trained boxer – is believed to have been keen to do a film about rugby for some time.
But before discovering Thomas' story he was not sure about how to find an angle for the project."