I hope the new Buffy the Vampire line of Jones soda doesn't taste like blood.


Au coeur des familles agricoles is a small non-profit that includes a club for gay farmers. Says one: "'We share personal stories, but mostly we discuss farming and agriculture,' Lampron said about the club, which will be represented in Montreal's gay pride parade next month for the first time by a few members who will be riding a tractor. 'It's great because we face similar challenges as both farmers and gay people living in rural regions -and we don't need to explain ourselves.'" 

17 killed at so-called "love parade."

Target helps fund anti-gay Republican pol Tom Emmer in Minnesota? "Follow the money: Target gave $150,000 to Minnesota Forward, which bought TV ads for Tom Emmer, who says "I believe marriage is the union between one man and one woman," and who hangs out with a guy who thinks killing gays is moral."

Seagull hate = homophobia.

Gay discrimination suit where an elderly man was not allowed to se his dying partner is settled. He was awarded $600,000.

Names of some of the sessions offered by the Truth About Homosexuality event next month: "From gay pride to gay tyranny," "The 'born gay hoax," "The battle over blood: 'gay' health risks and public policy," "Corrupting children, politicizing schools: the homosexual youth agenda," "Combating pro-homosexual media bias, confronting pro-gay 'conservatives'," "From destroying DOMA to homosexualizing the military: Obama's radical homosexual/transsexual agenda for America."
The really hasn't been much of a summer in LA this year.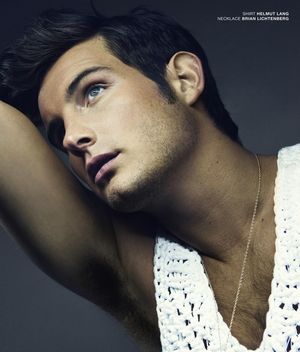 Nico Tortorella does MF magazine.

Somehow Sarah Palin rendered in over the top tabloid, Tawainese CGI is much less ridiculous than the real thing.

Russell Brand makes an ugly Katy Perry.

Some interesting stats on Apps. 

Remember this kid? Well, he finally got to meet Lady Gaga in person.

Hate: Openly gay candidate's posters spray-painted with gay slur in Florida.

Best complaint I've heard so far about not being invited to a wedding. Said one person of Chelsea Clinton's nuptials: "I'm good enough to borrow a plane from, but not good enough to be invited to the wedding?"

Wow. Pilot ejects seconds before his jet crashes at an air show in Canada.