Phoenix-based gay business group urges national LGBT groups to drop Arizona boycott.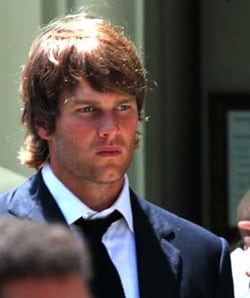 Tom Brady looking dreamy at son's christening.

Who knew Jon Secada was a Chippendale's dancer?

Portland police to re-open investigation into massage therapist's allegations that Al Gore groped her: "Consistent with our policy regarding open investigations, the Police Bureau will not be commenting on any additional specifics regarding this case at this time."

Kris Allen is "upset" that people saw him shirtless.

First iPhone 4 class action suit filed against Apple and AT&T.

Foursquare privacy hole leaks more than a million check-ins.

Vermont looks back at civil unions, 10 years later: "When Lois Farnham and Holly Puterbaugh were joined in civil union 10 years ago Thursday, some of their friends didn't come for fear they'd lose their jobs, and the church asked that plainclothes police officers attend the ceremony in case there was trouble.
A decade later, Vermont and four other states – Massachusetts, Connecticut, New Hampshire and Iowa, as well as the District of Columbia – have instituted full marriage for same-sex couples, and the Burlington couple say many people view their relationship as 'ho-hum.'"

Chace Crawford appears in court for pot arrest.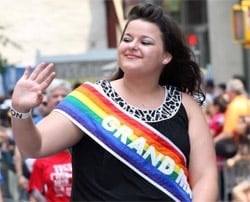 Constance McMillen to keep making life better for others: "I know I will continue to be an activist because through all of this, I have met a lot of people. I have heard a lot of horror stories so it's really made me realize how important it is to be an activist. Because, you hear some of these stories and you are like, 'how can you not be an activist?' You know, because some of them are really heartbreaking."

Fight Back NY wants to know who you want "sent packin'" from the legislature.

Uganda's "kill the gays" bill still pending.

First look photos: Cher and Christina Aguilera in Burlesque.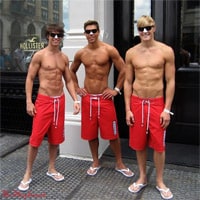 Bedbug infestation shuts down Hollister store in Soho.

AT-AT-a-boy.

Pope protesters to march in London Pride this weekend.

American Lung Association: gays smoke more. "The study indicates the LGBT population smokes at a higher rate than the general public. Data show that gay, bisexual and transgender men are up to 2.5 times more likely to smoke than heterosexual men. Lesbian, bisexual and transgender women are up to twice as likely to smoke as straight women."

Twilight: The 8-bit videogame.

British soap Hollyoaks to feature teen trans man.

Did Chris Brown use eyedrops to create the tears he shed at Michael Jackson tribute?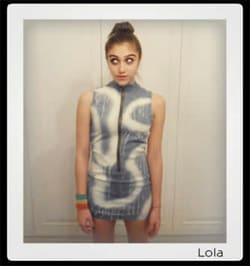 Lourdes welcomes you to her blog: "Helluuur thurrrr, I'm Lola and this is my first blog entry so it's kind of like ummmm…."

Chinese gay man sues Beijing Red Cross over ban on blood donation: "The man, an editor identified by his pen name Wang Zizheng, said he was gay in a health questionnaire filled out when he went to donate blood in early June, and was then told he could not be a donor, the China Daily said."

The Good Man Projects goes man-to-man with James Franco.

Tennessee court sides with lesbian mother: "Tennessee's Court of Appeals has struck down a judge's ruling in a child custody agreement that prevents a woman who now lives in Black Mountain from having her female partner spend the night while her children are in the home. The restriction was not requested by the ex-husband and came despite an evaluation finding no harm to the children."