The LGBT group Sleep With The Right People! Support Hotel Workers! will demonstrate
in front of the Manchester Grand Hyatt in San Diego this afternoon to
protest GOProud, who is holding an event there today that features Fox News Channel's Tammy Bruce. GOProud is a conservative gay Republican group. The hotel's owner, Doug Manchester,
was a big contributor to the "Yes on Prop 8" campaign, donating a hefty $125,000 in February 2008 .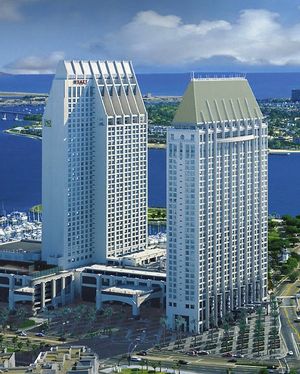 The LGBT community and the UNITE HERE! labor union have been behind a boycott of the hotel since 2008 and this is the first LGBT group to break it since.
Says Cleve Jones, who is affiliated with UNITE HERE!:
"The solidarity between the labor movement and the LGBT movement is a powerful coalition. In San Diego, the owner of the Manchester Grand Hyatt—the second largest Hyatt in North America—gave $125,000 to put Proposition 8 on the ballot. Our union and the LGBT community are boycotting the Manchester Grand Hyatt, because there is power in the union and there is power in coalition."
Protests begin at 4:30pm at the Manchester Grand Hyatt, 1 Market Place in San Diego. The GOProud event runs from 5pm to 7pm.
You may remember that hundreds of people showed up at a protest of the hotel back in January.