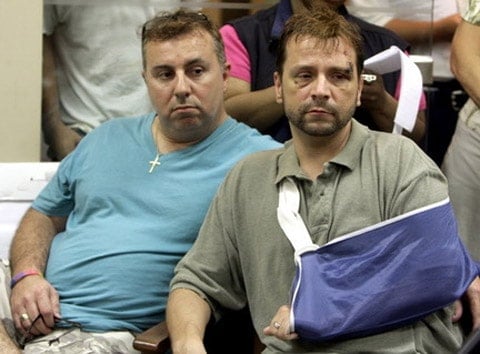 At a meeting at Staten Island's LGBT Center attended by State Sen. Diane Savino (D-North Shore/Brooklyn), openly gay assemblyman Matthew Titone, and representatives of City Councilwoman Debi Rose (D-North Shore, Rep. Michael McMahon (D-Staten Island/Brooklyn), the NYPD, Council Speaker Christine Quinn and the city Anti-Violence Project, Luis and Richard Vieira spoke out against homophobic hate crimes. The couple was attacked last weekend at a White Castle by a gang of teenagers who used anti-gay slurs.
Staten Island Live reports: "In the presence of 70-plus supporters, the couple of 13 years' standing held hands and overcame some initial discomfort. Richard Vieira's eye was blacked and his arm was in a sling.
'There are a lot of questions that need to be answered' in respect of the assault, said Luis Vieira, who noted that he grew up in Alabama when pro-segregationist George Wallace was governor.
'[Do] you honestly think you can intimidate me or my partner to not put our face out there and let it be known what is going on in the community?' he asked rhetorically."