The NYT notes that Obama has some unlikely allies in the push for comprehensive immigration reform: evangelical leaders:
"Several evangelical leaders said they were convinced that Hispanics are the key to growth not only for the evangelical movement, but also for the social conservative movement…The support of evangelical leaders is not yet enough to change the equation. But they could mobilize a potentially large constituency of religious conservatives, an important part of the Republican base better known for lobbying against abortion and same-sex marriage. They already threaten the party's near unity on immigration."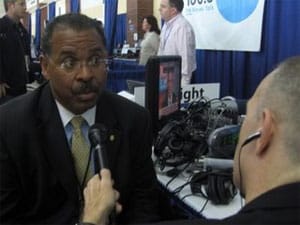 And given Evangelical opposition to gays, the paper also notes that, given the recent push by some lawmakers to include LGBT immigration bills as part of comprehensive reform, they may have to choose what's more important to them:
"J. Kenneth Blackwell (pictured), a Republican candidate for Ohio governor in 2006 and now a senior fellow at the Family Research Council, a conservative Christian group, said he expected more evangelical leaders to come on board.

But Mr. Blackwell said the whole effort could implode if the final legislation extended family reunification provisions to same-sex couples where one spouse did not have legal status. For evangelicals, he said, 'That would be a deal-breaker.'"
Politico adds that some activists say that wouldn't be the case: 
"Another area of potential tension involves the religious conservatives' steadfast opposition to recognition of same-sex relationships in any immigration reform bill.
A longtime activist for such recognition, New York attorney Lavi Soloway, said he welcomes the activity from the religious right and isn't fazed by their prediction. Soloway noted that Roman Catholic bishops have made similar categorical statements in the past, but never actually turned against the legislation. 'We are a small issue. … I don't think in the end we're a deal breaker,' he said."