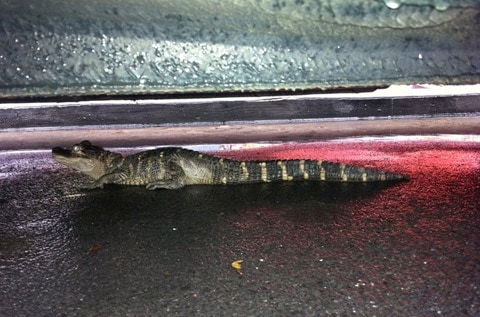 You don't have to look far for for wildlife in NYC:
"The Police Department's emergency service unit arrived and used a pole to hook and cage the animal and take it to the local precinct station house, said James Duffy, a police spokesman. The police also called Animal Care and Control of New York City to come get the animal.
'We're not sure if it's an alligator or a crocodile because we're not zoologists,' Officer Duffy said. 'No one knows where it came from, if it came from the sewer or not.' He called the creature 'tiny and harmless.'  … 'No one had to come and wrestle with it,' he said. 'It's not big enough to eat a dog — maybe a mouse.'
Later on Sunday, Richard Gentles, a spokesman for Animal Care and Control, said the animal was indeed an alligator. Where it came from is unknown. And exactly where it would end up is unclear, but Mr. Gentles said it would most likely go to a licensed rehabilitator or reptile sanctuary. On average, he said, his agency rescues two to four alligators, crocodiles or caimans (a related reptile) in the city every year."