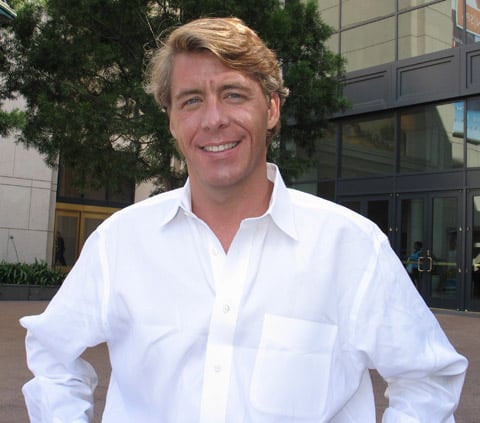 GOProud Executive Director Jimmy LaSalvia

text and photos by REX WOCKNER (for Towleroad)
A national gay Republican group has received $16,000 in contributions from San Diego's Manchester Financial Group and the gay-boycotted Manchester Grand Hyatt San Diego, and recently held an event at the hotel.
In May, GOProud accepted a $6,000 cash contribution from the financial group and $10,000 in hotel credit from the Hyatt, the organization confirmed July 30.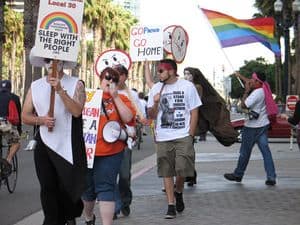 The Manchester Grand Hyatt has been boycotted for two years by LGBT activists in response to owner Doug Manchester's $125,000 donation in "seed money" to the campaign that succeeded in amending California's constitution to re-ban same-sex marriage in 2008.
"They generously are supporting us with hotel credit and some cash," GOProud Executive Director Jimmy LaSalvia said in an interview. "We are grateful and happy to take it. I'm happy he is supporting organizations like GOProud rather than supporting organizations that are working against us."
GOProud held its first California event at the hotel July 31. Forty people attended. Tammy Bruce, an openly lesbian Fox News political analyst, author and radio talk-show host, was the featured speaker.
The reception was picketed by 20 activists who said it was shameful for GOProud to violate the boycott and accept money from Manchester. They were addressed by veteran Los Angeles lesbian activist Robin Tyler.
The protesters carried signs that said, "GOProud go home!" and "GOProud = GOShame."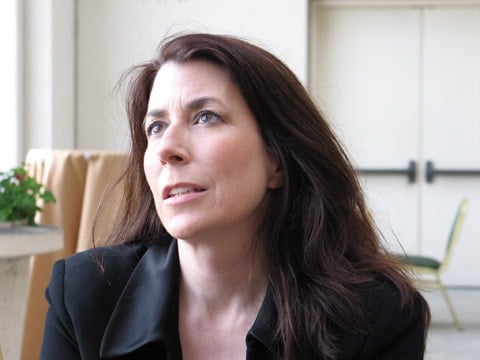 Tammy Bruce
But in an interview, Bruce said it was the picket outside that was shameful.
"The irony, after every civil-rights movement really was about making sure that people who are different, especially gays and lesbians, would not be shunned, would have an equal opportunity, would at least, by not fitting in, not be punished for being different, for not conforming — and what is it today? Protests outside this hotel for a bunch of gays who do not conform," she said. "To try to punish businesses and people for perhaps believing differently than you do and for voting and being politically active in that regard is shameful."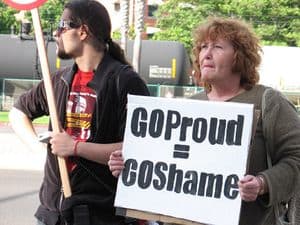 More than a year ago, Manchester attempted to make amends with the gay community by offering LGBT organizations $100,000 in hotel credit and $25,000 in cash. While GOProud is the first group to use some of the hotel credit, a total of five LGBT organizations have accepted donations, said Manchester Grand Hyatt marketing director Kelly Commerford.
Commerford directed a reporter to a public-relations agency for additional information. A phone call to the agency was not returned.
In addition to offering money and hotel credit, Manchester also apologized for his pro-Proposition 8 donation and called it a mistake.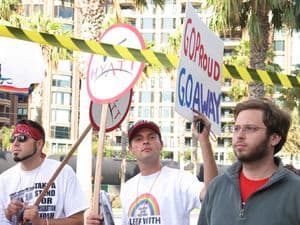 "Numerous apologies have been made by Doug Manchester himself and on his behalf, to the gay and lesbian community, the San Diego community and to the general public," says his website mghsd4equality.com. "Mr. Manchester acknowledges that he made a mistake and is taking action that reflects that. Doug Manchester has promised his colleagues, clients, patrons, the gay and lesbian community and the San Diego community that he will never again support an organization that seeks to limit or oppose the rights of any Americans. Doug Manchester supports equality for the GLBT community and has publically stated his belief that all Americans should receive the same benefits as civil marriage. Mr. Manchester has traditionally understood 'marriage' in the context of a religious institution, but now understands there is a civil rights component to it that should apply to all Americans."
Boycott supporters, which include the important statewide groups Equality California and Courage Campaign, say Manchester needs to do more, however.
"We believe in redemption ultimately and in the opportunity for people to change their minds, but Doug Manchester helped bankroll the Yes on 8 campaign and he hasn't changed his mind on marriage," said Marc Solomon, marriage director for Equality California.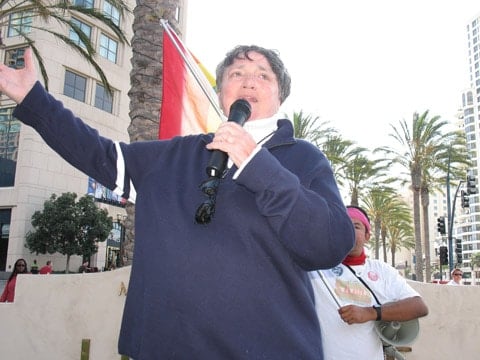 Activist Robin Tyler 
Solomon suggested that Manchester meet with gay couples, express support for marriage equality and spend "an equal amount of money to undo the harm he did."
Solomon said EQCA had turned down an offer of a $25,000 donation from Manchester.
The president of the San Diego chapter of the LGBT group Log Cabin Republicans, Will Rodriguez-Kennedy, said his organization decided not to "break the boycott" for the GOProud event.
"In this instance, it's best to side with the (gay) community because the community's right," Rodriguez-Kennedy said in a video interview with ThatsSoGayLIVE.com.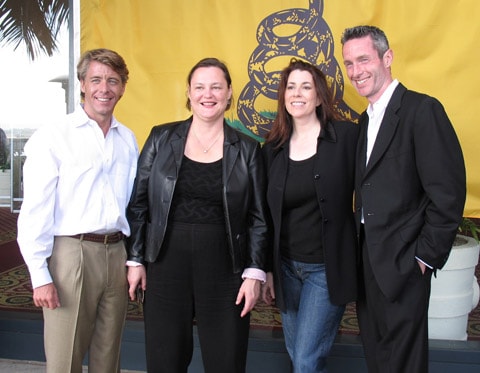 GOProud Executive Director Jimmy LaSalvia, board member Jessica Lee, Tammy Bruce, and board chair Christopher Barron