Conservative pundit Ann Coulter has been dumped as keynote speaker at wingnut rag World Net Daily's "Taking America Back National Conference" because of her decision to speak at Homocon, a party being thrown in late September by gay Republican group GOProud.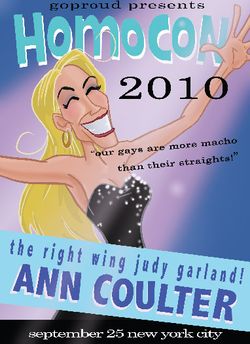 Said WingNutDaily's founder Joseph Farah to Coulter: "Do you not understand you are legitimizing a group that is fighting for same-sex marriage and open homosexuality in the military – not to mention the idea that sodomy is just an alternate lifestyle?"
Replied Coulter: "That's silly, I speak to a lot of groups and do not endorse them. I speak at Harvard and I certainly don't endorse their views. I've spoken to Democratic groups and liberal Republican groups that loooove abortion. The main thing I do is speak on college campuses, which is about the equivalent of speaking at an al-Qaida conference. I'm sure I agree with GOProud more than I do with at least half of my college audiences. But in any event, giving a speech is not an endorsement of every position held by the people I'm speaking to. I was going to speak for you guys, I think you're nuts on the birther thing (though I like you otherwise!)."
The decision to cut Coulter, according to Farah, was "gut-wrenching."
Said GOProud's Board Chairman Christopher Barron earlier this month, regarding the decision to host Coulter: "I can't think of any conservative more fun to headline our inaugural party then the self-professed 'right-wing Judy Garland' – Ann Coulter….I can promise you, Homocon 2010 will be a hell of a lot more fun than chaining yourself to the White House fence."