Former RNC Chair Ken Mehlman has come out of the closet in an interview with The Atlantic's Marc Ambinder.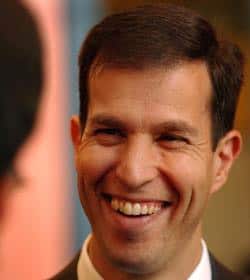 Said Mehlman: "It's taken me 43 years to get comfortable with this part of my life. Everybody has their own path to travel, their own journey, and for me, over the past few months, I've told my family, friends, former colleagues, and current colleagues, and they've been wonderful and supportive. The process has been something that's made me a happier and better person. It's something I wish I had done years ago."
Mehlman says he tried to stop Republicans from attacking gay marriage:
Privately, in off-the-record conversations with this reporter over the years, Mehlman voiced support for civil unions and told of how, in private discussion with senior Republican officials, he beat back efforts to attack same-sex marriage. He insisted, too, that President Bush "was no homophobe." He often wondered why gay voters never formed common cause with Republican opponents of Islamic jihad, which he called "the greatest anti-gay force in the world right now."
What does he regret?
"I can't change the fact that I wasn't in this place personally when I was in politics, and I genuinely regret that. It was very hard, personally." He asks of those who doubt his sincerity: "If they can't offer support, at least offer understanding."

"What I do regret, and think a lot about, is that one of the things I talked a lot about in politics was how I tried to expand the party into neighborhoods where the message wasn't always heard. I didn't do this in the gay community at all."

He said that he "really wished" he had come to terms with his sexual orientation earlier, "so I could have worked against [the Federal Marriage Amendment]" and "reached out to the gay community in the way I reached out to African Americans."
Ambinder notes: "Mehlman is the most powerful Republican in history to identify as gay."
Read the whole thing here.