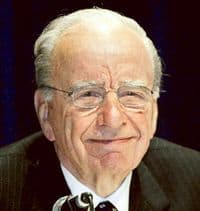 Ben Smith at Politico reports:
"The company's media outlets play politics more openly than most, but the huge contribution to a party committee is a new step toward an open identification between Rupert Murdoch's News Corp. and the GOP. The company's highest-ranking Democratic executive, Peter Chernin, recently departed.
The $1 million contribution this June 24 was first reported by Bloomberg and appears on the RGA's July 15 filing with the Internal Revenue Service…News Corp. Spokesman Jack Horner emails, 'News Corporation believes in the power of free markets, and the RGA's pro-business agenda supports our priorities at this most critical time for our economy.' The giant check to the RGA dwarfs low four-figure checks from Fox's PAC to Democrats including Harry Reid and Chuck Schumer."
Does Horner's position sound familiar?