Back in February I posted about BBC newscaster Ray Gosling, who admitted in a documentary on death and dying that he had killed a lover who was dying of AIDS. Gosling was arrested and questioned over the admission.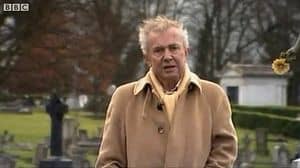 Gosling won't be charge with murder. He'll be charged with wasting the police's time:
"Helen Allen, a lawyer in the special crime division of the CPS, said Gosling had been interviewed several times by police and an 'extensive investigation' had been conducted into his claims.'The police established that there was sufficient evidence to provide a realistic prospect of proving that Mr Gosling's confession was false and asked the CPS to consider whether he should be prosecuted for wasting police time, given the amount of work they had to carry out to establish what had happened,' she said.'After careful consideration of all the evidence I decided that Mr Gosling should be prosecuted for wasting police time and advised the police to obtain a summons to that effect.'"
Said Gosling regarding the charges:
"I'm sorry if the police think they wasted their time. It was a small item on a regional TV programme, Inside Out, to my people, with whom I have had an intimate relationship. It got out of hand that winter evening. I had had a week or two talking to people who had told me of the pacts they had had – some fulfilled with wives, lovers, husbands, who were dying in pain and some told me of pacts unfulfilled. I did not expect it to cause this fuss, I'm not joining any cause. I know what some people say, that I said what I did for publicity to promote a book I'm writing. That is absolutely not true, I haven't finished the book yet. Some people say I did it to revive a dying career. I didn't. I said it out of my heart, out of my feeling for people who had told me their intimate private stories and it got out of hand and I'm sorry."
Watch Gosling's confession, if you missed it, AFTER THE JUMP…