In late July I posted about OutServe, a group formed to facilitate the transition for gay troops serving under "Don't Ask, Don't Tell" to an open military.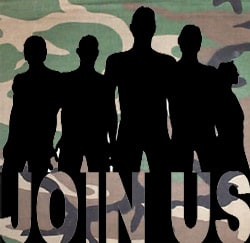 Last night, the group announced the formation of at least ten base and regional chapters around the globe including Afghanistan and Iraq. Five of the initial chapters will be domestic, and five international.
The group writes:
"For safety reasons the exact location of the chapters will not be known, except for inside the exclusive network, but 5 chapters will be located overseas and 5 chapters will be located stateside. Although the demand to establish additional chapters is high, OutServe will start with ten this week and expand in the near future. For information on the group go to www.outserve.org The goal of each base and regional chapter will be to provide information, resources and social support to actively serving military personnel. 'Don't Ask Don't Tell' places an immense burden upon individuals who think they are alone at their base and these networks will seek to fix that. Each chapter will be charged with growing and expanding their networks and offering support in their specific areas. OutServe Headquarters will be tasked with supporting those networks and serving as the voice of the national organization. 'We need to start to empower local military networks to expand and unite them under one banner,' said JD Smith, OutServe's co-director and active duty officer in the U.S. Armed Forces. He continued, 'Informal networks of gay and lesbian military members have existed well before World War I and it's time to take those networks and start connecting them and giving them more resources.'"
More info at OutServe.