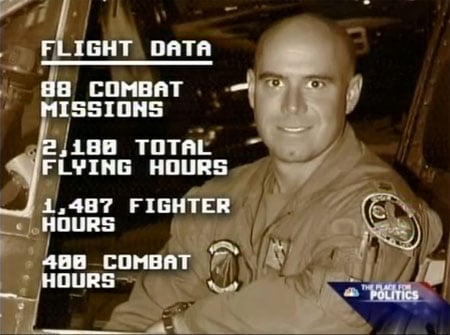 Heavily-decorated Air Force flight officer Lt. Col. Victor Fehrenbach, believing he's about to be discharged under the military's "Don't Ask, Don't Tell" policy, has filed court papers to block that discharge, the NYT reports:
"On Wednesday, Colonel Fehrenbach's lawyers filed papers in Idaho federal court requesting a temporary order blocking his discharge. The petition contends that a discharge would violate Colonel Fehrenbach's rights, cause him irreparable harm and fail to meet standards established in a 2008 federal court ruling on don't ask, don't tell…
…Lawyers for Colonel Fehrenbach assert that his case is among the most egregious applications of the policy in their experience. The Air Force investigation into his sexuality began with a complaint from a civilian that was eventually dismissed by the Idaho police and the local prosecutor as unfounded, according to court papers. Colonel Fehrenbach has never publicly said that he is gay.However, during an interview with an Idaho law enforcement official, he acknowledged having consensual sex with his accuser. Colonel Fehrenbach's lawyers say he did not realize Air Force investigators were observing that interview; his admission led the Air Force to open its 'don't ask' investigation."
Fehrenbach is a 19-year veteran of the Air Force, whose training is estimated to have cost the military $25 million.
Fehrenbach has appeared many times on The Rachel Maddow Show. In July, he talked to Maddow about the recent DADT survey and his status with regard to the discharge.
Watch that interview, AFTER THE JUMP…