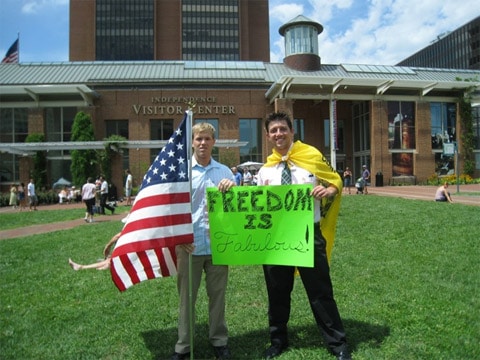 On Saturday, the Uni-Tea rally took place in Philadelphia. It was meant to demonstrate the "diversity" among members of the Tea Party, TPM reports:
"Apparently, Uni-Tea wasn't only bridging the racial gap. Brendan Kissam and Matt Hissey wandered into the event carrying signs that said 'proud gay conservative' and 'freedom is fabulous.' They said they were 'the Gayborhood's envoy to the tea party.' The pair said the tea party is welcoming to their minority group, too. 'The Tea Party is accepting of everybody,' said Hissey, adding that 'Skin color diversity — that's not real diversity. Everyone here has a different life experience.' Hissey recognized that the tea party 'might be against gay marriage,' but that's ok, he said, because he is too."
Apparently, with fewer than 500 in attendance and few non-Whites to be found, it was a major fail: "If you're the kind of tea partier who'd like to see that abounding not-racism result in some actual demographic diversity in the movement, the Uni-Tea rally appeared to be a borderline disaster."